Description
SHIPPING PRICE INCLUDED :
This pool waterfall price includes driveway delivery
Our "Serenity" medium swimming pool waterfalls is a pool favorite and outstanding for those who would like to create their own beautiful pool waterfall garden. This decorative waterfalls is little different from our kit version. This offer is for the main waterfall rock minus the custom side rocks. Here, you can customize your own pool oasis by incorporating some of our other decorative shapes and sizes of edge rocks and accent rocks to fit your pool's needs. These pool waterfalls make a huge splash for pool entertainment as well as soothing and relaxing waterfall sounds of a tropical paradise. This backyard pool feature and waterfalls rock comes with a 1.5 inch (40mm) water outlet fitting that can easily be hooked up to your existing pool pump.
These decorative waterfall rocks are made from a light weight, and extremely strong synthetic material that looks completely natural and realistic. Also, our pool water features are compatible with both *chlorinated and salt water pools. The smaller Serenity waterfall is to be an excellent addition to your outdoor or indoor pool decor, and will surely be the centerpiece of all your backyard get-together.
PLEASE NOTE:
We have added cool product options for additional artificial rock collections and pond ideas to enhance your water garden pleasures. These are only optional and if not interest no action is required.
All rock coloration's are hand applied for a uniqueness for individual beauty. All four rock colors will vary somewhat from pictures.
Make sure that the water-source feeding your waterfall can be shut off when doing a shock treatment as excessive levels of chlorine can cause slight discoloration of faux rocks.
 Customers are required to help unload & inspect before accepting product
Above video shows waterfall in display.
If your looking for a complete kit,
take a look at our pool waterfalls kits  available with the edge rocks.
We offer professional phone consulting for your pool waterfall ideas…
Call us for questions and installation tips & information at 440-728-4564
OUTSIDE DIMENSIONS:
63″ Length  "left to right"
44″ Wide  "front to back"
27″ High  "top to bottom"
Weight: 48 lbs
Measurements & weight are only approx.
INSIDE DIMENSIONS:  "very rough estimated dimensions due to polyethylene foam process"
58″ Length  "left to right"
31″ Wide  "front to back"  (inside front edge to inside back of waterfalls)
Hose not included
KEY FEATURES:
Constructed of polyurethane and a special blend of polyurea & real rock particles
Flexible material allows cutting for custom fit
Suitable for use in hot and/or cold environments
No winterizing required
Hand made and hand-colored so each piece is unique
Works with both chlorine controlled and salt water pools
Comes with one 1 1/2″ outlet
Includes shipping of $325.00 "non refundable on returns"
Lowest required Minimum Advertised Price Enforcement of $1109.58
ENHANCEMENT IDEAS:
Check out our Universal Realistic Rock decorative garden accent rocks & boulders, in many sizes and shapes
Uniquely placed water feature lighting brings night time excitement to any waterfall pool feature
ROCK COLORS

Left to right: Arizona Brown, American Grey, Castle Rock
PLEASE NOTE:
Comes in three colors
Castle Rock contains brown
Coloration will vary from each rock
PERSONALIZE YOUR OWN DISCOUNT :
OUTSTANDING PRODUCT OPTIONS:
Pick and choose any of the below optional only products and they ride free with the main water feature.
BEVERAGE ROCK COOLERS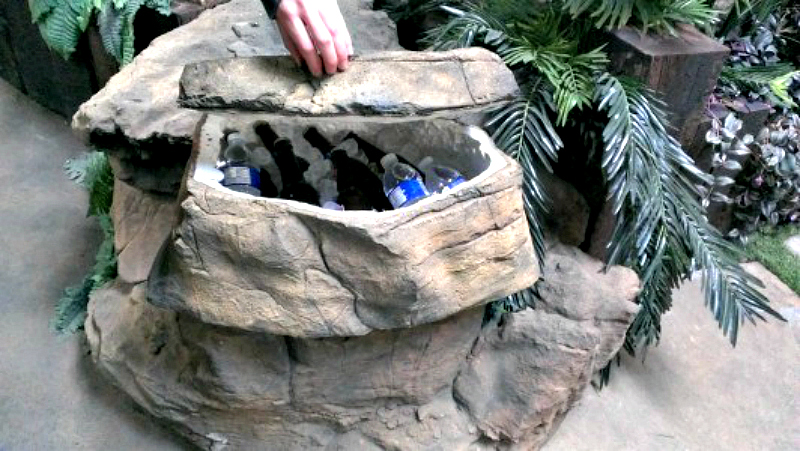 Pot Rock-003

Pot Rock-008

Pot Rock-011

Accent Rock-003

Accent Rock-005

Accent Rocks-022