Description
PRICE INCLUDES SHIPPING :
This pond waterfall kit price includes driveway delivery
Here at Garden Gnomes Etc., we carry an excellent selection of choice patio pond waterfall kits ranging from small to large. Our very beautiful patio pond and garden waterfall kits includes everything that's needed for your very own custom designed water garden. This unique kit is one of my favorites for smaller places that would like to incorporate a medium size waterfalls rock. Our beautiful pond and waterfalls is not only an eye catching water feature for the patio and deck but also an excellent addition for the backyard garden landscape. This unique small rock pond has been redesigned as a one piece rock pond to add more volume, water depth and to eliminate the dead spaces of our once two piece unit and will simply fit many of our smaller type rock waterfall designs. The garden waterfalls (MW-011) in this kit offering simply sits on top of the specialized pond collar completing a very unique garden feature. This spectacular pond waterfalls requires no digging and can be set up in a minimal amount of time an excellent feature for the homeowner. These eye catching pond waterfall formations are made from real rock particles and a light weight synthetic material that's extremely real looking and very strong.. Our rock waterfalls are perfect for decks, patios and courtyards while creating an outstanding center piece for any garden or backyard landscape setting. Also excellent for entertaining & family gatherings while perfect for meditation & yoga while relaxing to soothing and peaceful sounds of a beautiful waterfalls.
PLEASE NOTE:
We have added cool product options for additional artificial rock collections and pond ideas to enhance your water garden pleasures. These are only optional and if not interest no action is required.
All rock coloration's are hand applied for a uniqueness for individual beauty. All four colors will vary somewhat from pictures.
Customers are required to help unload & inspect before accepting product.
Above video shows waterfall in display.
PATIO ROCK POND SP-003 DIMENSIONS:
45″ Length  "left to right"
40″ Wide  "front to back"
10.5″ Height  "top to bottom"
Weight: 22 lbs
Volume: 25-30 gallons
Measurements, volume & weight are only approx.
MEDIUM GARDEN WATERFALL ROCK (MW-011) DIMENSIONS:
39″ Length  "left to right"
31″ Wide  "front to back"
17″ High  "top to bottom"
Weight: 22 lbs
Measurements & weight are only approx.
Pump Size: 500-700 GPH
1″ Barbed fitting for hose attachment
PATIO POND WATERFALLS COMPLETE KIT:
Pump Cover Rock-to hide pump
Suitable Pump
Tubing Sized for Kit
PATIO WATERFALL KEY POINTS:
Universal artificial waterfall rocks are made from real rock particles
Very easy to install (DIY)
No digging needed
Very affordable
Light weight and are easy to re-position or even relocate
Outstanding featured attraction for day and night entertainment
Suggested minimum landscape area: 5′ to 5′
INCLUDES SHIPPING
WATER FEATURE KEY POINTS:
Excellent waterfall rock for wildlife habitat
Easy to create a natural habitat "wild flowers"
Outstanding featured attraction for day and night entertainment
Exceptional feature for all gardens
ADDITIONAL WATER GARDEN IDEAS:
Atrium Decor
Museum Exhibits
Theater Props
Zoos – Tropical Bird, Reptile & Amphibian Exhibits
Park Nature Center Exhibits
Schools
OUTSTANDING PRODUCT OPTIONS
Pick your Own
ROCK COLORS
Left to right: Arizona Brown,  American Grey, Castle Rock
PLEASE NOTE:
Comes in three colors
Castle Rock contains brown
Coloration will vary from each rock
PERSONALIZE YOUR OWN DISCOUNT :
OUTSTANDING PRODUCT OPTIONS:
Pick and choose any of the below optional only products and they ride free with the main water feature.
BEVERAGE ROCK COOLERS
SMALL SELF CONTAINED BUBBLING ROCK KIT
Cypress Stump-001 for a rock and water garden idea
POT ROCK COLLECTION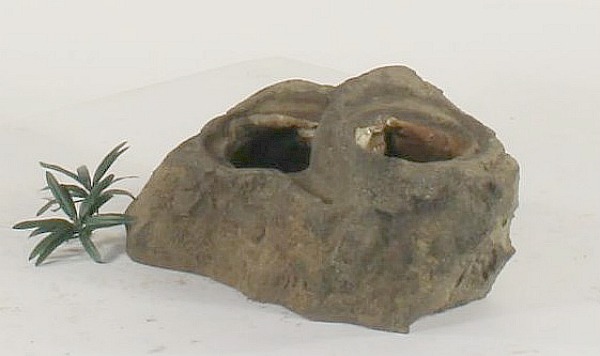 DECORATIVE ACCENT ROCK COLLECTION